Africa: July 2017
Potential Projects
Fundraising
In July 2017, Leave A Trace Foundation traveled to Tanzania for a fundraising and awareness campaign and to meet with new partners for the purpose of identifying future projects.  Our team successfully climbed and summited Mount Kilimanjaro, known as the Roof of Africa standing 19,341 feet above sea level.  The 7-day climb was arduous, especially the final ascent that began at midnight and ended a few minutes past 7 am when the entire team successfully reached Uhuru Peak for sunrise!  The lack of oxygen at that altitude only allowed for a few minutes at the peak before the journey back down the mountain began.  Thanks to all who donated funds during this fundraiser for our Clear Vision and Clean Water projects around the world.  Once back in town, we met with KCCO, Kilimanjaro Center for Community Ophthalmology, to plot out how we can best assist them with the vision work they are doing 24/7 on the ground there.  We also visited several village primary schools and tested their water source for pathogens.  Sadly each site revealed contamination, so we are currently working on plans to return to Tanzania to install water purification systems at these schools.
Peru: May/June 2017
Vision Clinics
Purification Systems Installations
The Leave A Trace Foundation traveled to Peru in May / June 2017 to host multiple vision screening clinics and install water purification systems.  We partnered with our friends at Buckner International once again and held multi-day vision screening clinics at several of their family hope centers.  We worked with over 100 children, adults and the elderly and providing those with sight deficiencies with the appropriate prescription corrective lenses.  Additionally we donated 20 water filters that will be used by families in the Pamplona community in their individual homes, as the water that is delivered by truck and deposited into the homeowners' rotoplast tanks is often contaminated and unfit for human consumption.  We also worked with a brand new partner, the Rotary Club of San Miguel.  Our first work location with Rotary was at a school of 700+ students ranging from kindergarten through high school.  We held a vision screening clinic for the students, providing corrective lenses as warranted and we also installed a water filtration system that will provide sustainable clean water to the entire campus of students and faculty.  Our second work location with Rotary was a soup kitchen that feeds several hundred people each day.  We held a vision screening clinic at the kitchen, serving nearly 100 elderly people and providing corrective lenses as appropriate.  We also installed an electrolysis water system at the soup kitchen that has the capacity to cleanse 55-gallons of water per minute.
Peru: July 2016
Purification Systems Installation
Water Safety Workshop
Vision Clinics
In July 2016, Leave A Trace traveled to Peru to install various water purifiers and host vision clinics around the country.  In Lima, we once again partnered with Buckner International to install an electrolysis purification system for a community soup kitchen.  Additionally, we donated 20 micron filters for families in the Pamplona community and the local kinder school.  We also visited the site of our May 2014 installation.  Due to problems with the government, this location had to relocate and the purifier was damaged during the moving process.  Fortunately, we were able to repair the damage, and the purifier works perfectly once again!  We hosted our first vision clinic in Lima and provided 60 people with corrective lenses.  Our Director of Marketing and New Technologies, Matthew Lee, also led a workshop for women in the Pamplona community concerning water safety and sanitation.  In Cusco, Leave A Trace donated 15 more micron filters to a children's home and hosted a vision clinic where we tested and corrected the vision of over 40 children and workers.
New Products: May 2016
Announcing Clear Vision

The Leave A Trace Foundation is excited to announce that we are expanding the scope of how we serve those in need around the world!
Just hours after completing this semester's final exams, our Director of Marketing and New Technologies, Matthew Lee, made a road trip out of state to visit with and be trained by Surgeons for Sight. This group of doctors 
teaches others how to hold vision screening clinics to improve vision for individuals who have little or no access to eye care or corrective lenses. Imagine a student diligently working to gain the skills necessary to qualify for a decent paying job but unable to see the teacher's chalkboard and learn the required lessons. Or imagine the grandmother who has never been able to focus on the twinkling eyes and smile of her precious grandchild.
Now in addition to clean water, Leave A Trace will provide Clear Vision. Click here to learn more.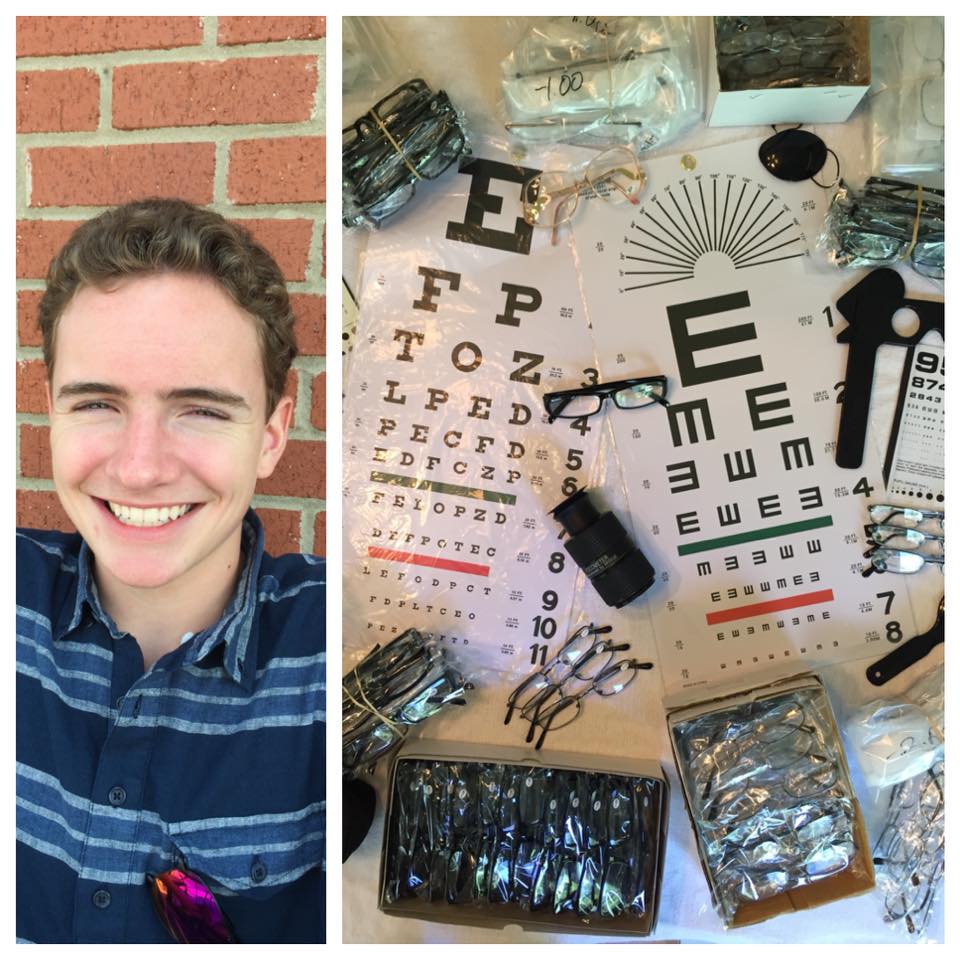 Atlanta, Georgia: June 2014
Clean Water Conference

In June 2014, Leave A Trace hosted our second Water Conference.  Our partners at Delta Airlines gifted their New York Skyline Conference Room in the Delta World Headquarters in Atlanta for the morning.  The conference featured speakers from the Waterborne Disease Prevention Branch of the CDC, Emory University's Center for Global Safe Water, Grupo EOZ, and Leave A Trace.  Attendees included Delta employees, teachers from the Atlanta area, and Outreach Directors from local churches.  Speakers explained the crisis that is created by unsafe drinking water and what you and I can do to fix it.  The solutions are SIMPLE! Visit the "how can I help?' page or contact us for how you can get involved.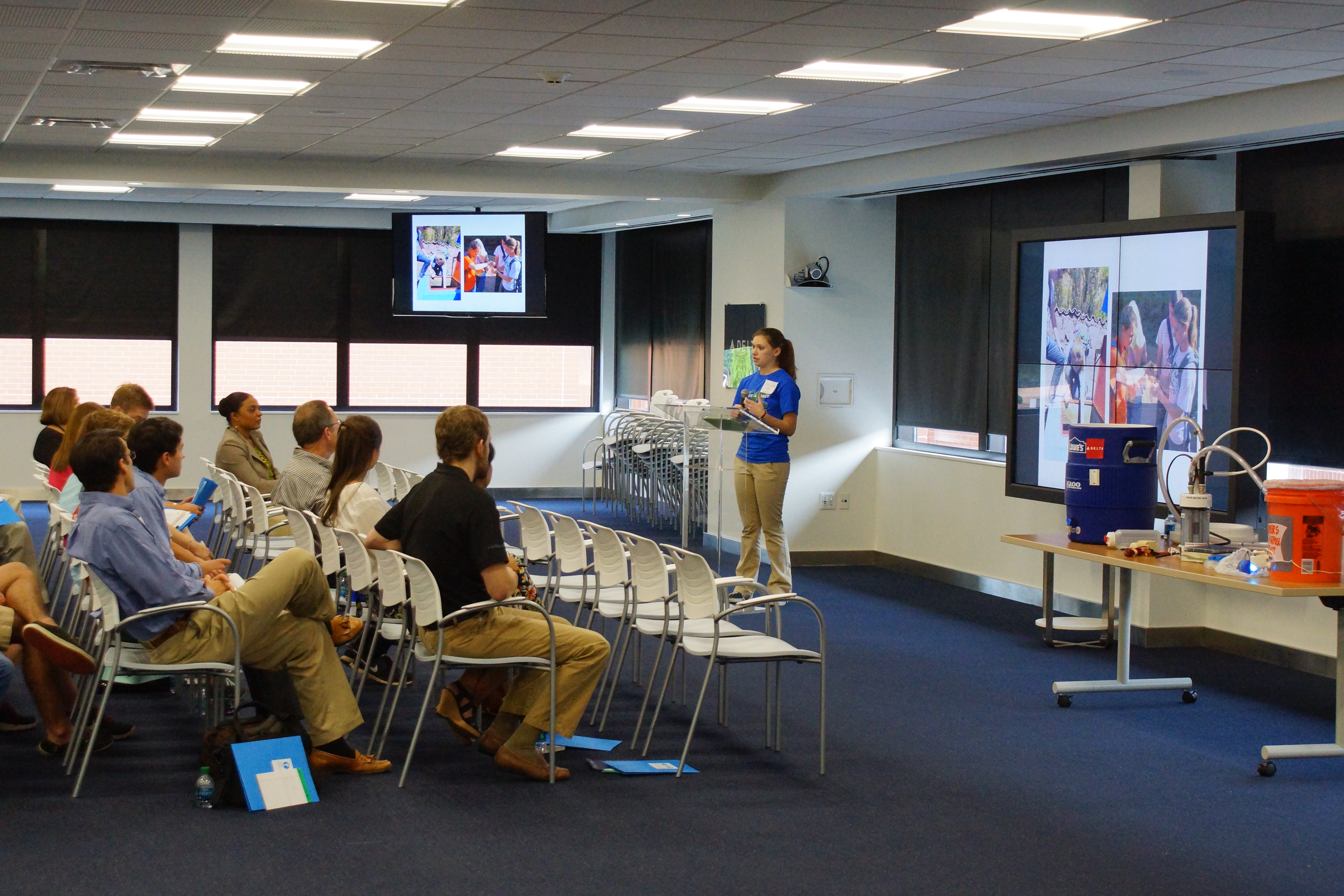 Santo Domingo, Dominican Republic: June 2014
Water Analysis and Potential Projects

In June 2014, Leave A Trace traveled to Santo Domingo to test and analyze water at various locations throughout the city including an orphanage for babies and infants and a correctional facility for young girls.  Every location we tested had highly contaminated water that requires immediate attention. Our partners at Buckner International introduced us to some resourceful and influential individuals in the Dominican government that are working very hard with the First Lady to solve many of the country's problems, including unsafe water.  Leave A Trace team members are working to develop solutions that Buckner can easily install at locations throughout the city.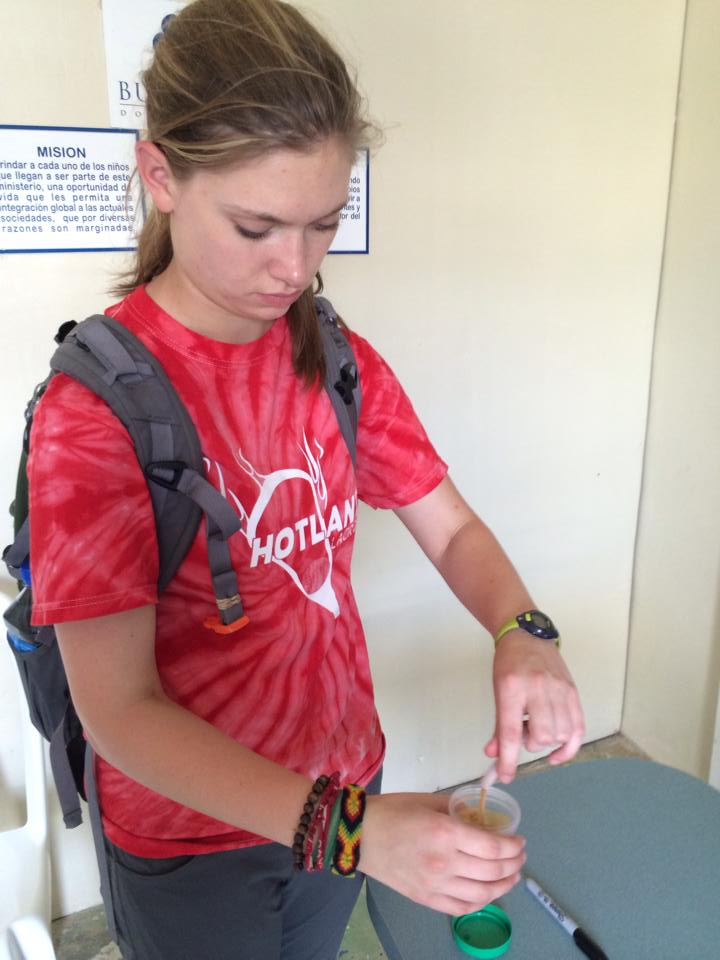 Lima, Peru: May 2014
Purification Systems Installation

In May 2014, Leave A Trace traveled to Peru for multiple purifier installations at several locations all around the country.  We partnered with Delta Airlines to install 15 bucket filtration systems in an orphanage in Lima that houses over 800 children.  Next, we installed an electrolysis purification system at a soup kitchen in the Pamplona District outside of Lima.  This soup kitchen services hundreds of people each day.  Leave A Trace team members then traveled to Cusco where we installed 10 bucket filtration systems in a Quechuan community located high in the Andes Mountains.  Finally, we provided our partners at Buckner International with 50 micron filters to install in a Peruvian community located deep in the Amazon Rainforest.
Chimbote, Peru: May 2013
Purification System Installation

In May 2013, Leave A Trace traveled to Chimbote, Peru to install an electrolysis water filtration system at a rural school located approximately 1 hour outside of Chimbote. We experienced many interesting challenges along the way from TSA "inspecting" (more like breaking) some of our crucial components to having to use a donkey drawn cart to clean out the water tank. Our local Peruvian ingenuity ultimately made the installation possible. After the system was correctly operating, we trained the school principal and local community leader on the maintenance of the system. For more information on this project, check us out on Facebook at www.facebook.com/LeaveATraceFoundation.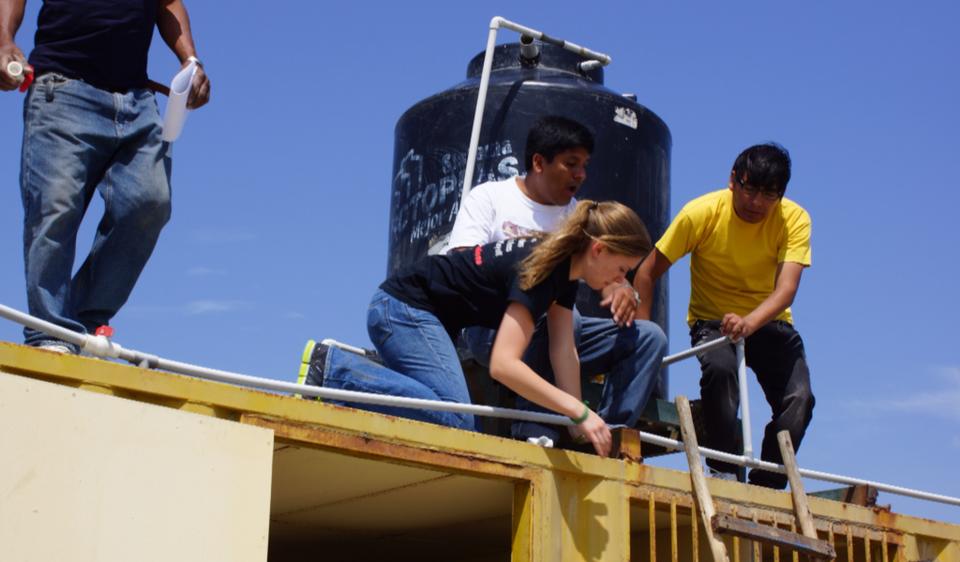 Dominican Republic: April 2013
Local Mission Team Training

Leave A Trace trained a local mission team on pathogen water testing for their upcoming travel to the Dominican Republic at the end of May. Additional training on the asembly, instalation, and operation of a water filtration system is planned for the summer of 2013. If you or someone you know would like to be trained in clean water solutions, visit the "how can I help page" or contact us.
New Products: Jan-May 2013
New Technologies

A never ending goal for us at Leave A Trace is to find low-cost, yet highly-effective solutions for providing clean water to individual homes or families. During our trip to Guatemala, we learned more about candle filtration systems, and with that in mind, we have been working on new filtration systems currently being used in Mexico that promise even greater flow-rates and water purity. We have also adopted a new water testing  method that allow us to better isolate the levels of specific pathogens, such as E-Coli, in water around the world.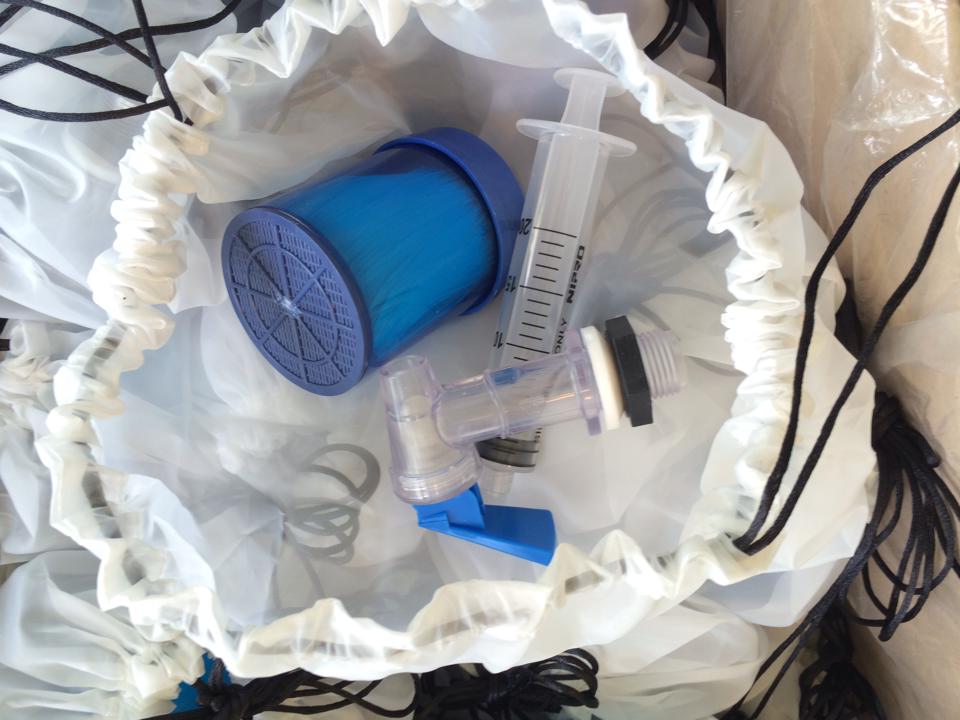 Guatemala: Dec 2012- Jan 2013
Purification Systems Installation

Leave A Trace rang in the new year by traveling to Guatemala to scope out new projects. We also provided candle filtration systems for one school and four families in working in the Guatemala.
Chimbote, Peru: June 2012
Purification System Installation

In June 2012, Leave A Trace returned to Chimbote, Peru and installed an electrolysis water purification system in the Monte Chimbote Community Center. This purifier will service the approximately 700 people that live in the Mount Chimbote community. The purifier was installed on a new water tank supplied by the Chimbote Rotary Club. The Chimbote Rotary Club has become increasingly involved in our clean water projects, and we are excited about the prospects of such a partnership.  After a simple installation, Leave A Trace team members trained community leaders on the proper operation and maintenance of the purifier.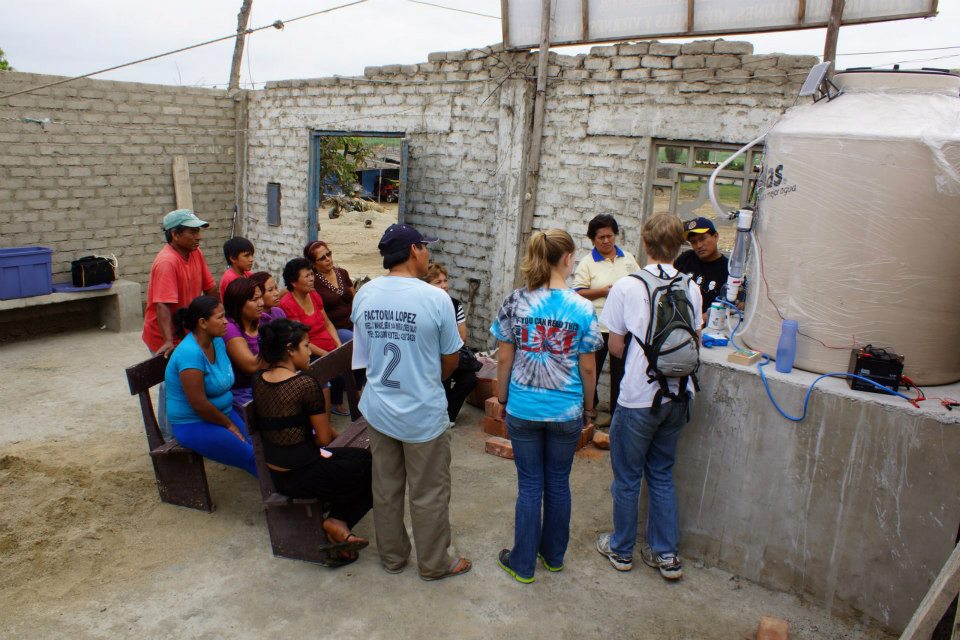 Chimbote, Peru: June 2012
Water Analysis and Potential Projects

In June 2012, Leave A Trace members surveyed 8 sites around Chimbote, Peru for clean water projects. Each site was extensively cataloged, and the water tested for pathogens. The sites included several schools, one of which is located in a remote area of Peru. At this school, the principal explained that the children must walk as much as two hours to school, and when they arrive, they have no clean water to drink. After evaluating the water samples, we know there is an immediate need for the installation of purification equipment.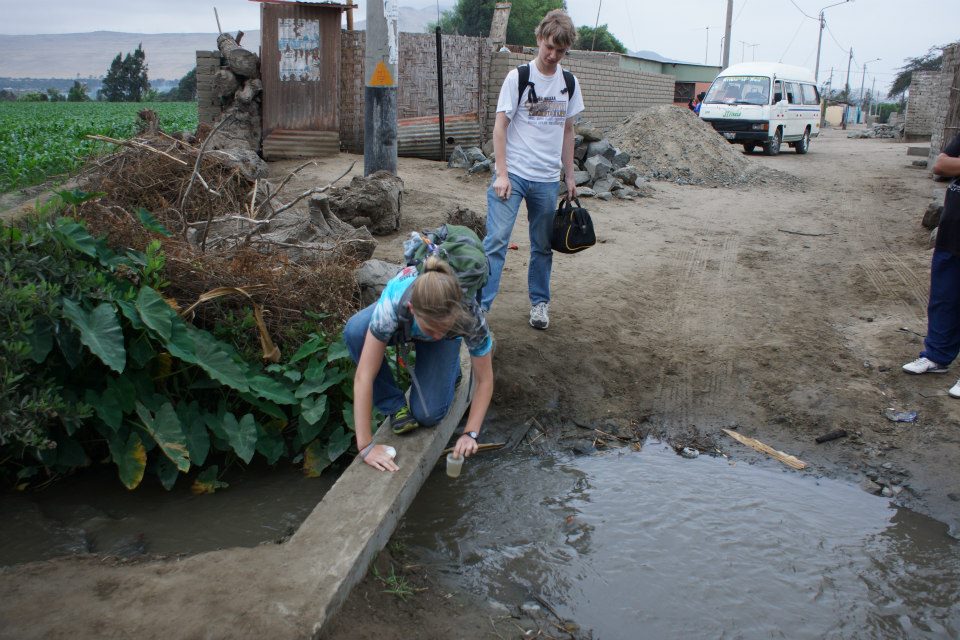 Chimbote, Peru: Nov 2010
Purification System Installation

In November 2010, Leave A Trace returned to Chimbote, Peru to install an electrolysis water purification system. The system was installed at a soup kitchen in the Veinticinco de Mayo District. The soup kitchen services approximately 1,000 people everyday.  The location had previosly been identified as a source of contaminated water on a trip in the summer of 2010. Leave A Trace team members installed the purifier to work in tandem with the soup kitchen's existing well and storage tank system. After a successful installation, the locals who operate the facility were trained in the daily management of the purifier.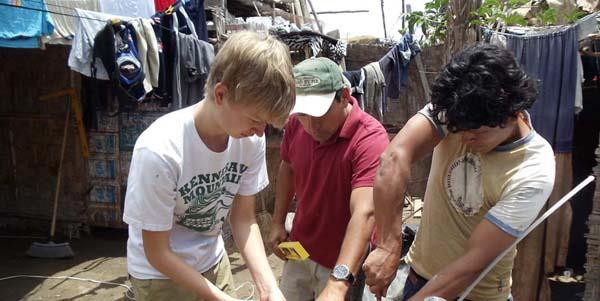 Atlanta, GA: June 2011
Clean Water Conference

In June 2011, Leave A Trace coordinated with Georgia Tech, Waterstep, and Engineers Without Borders to bring a clean water training conference to Atlanta, Georgia. Conference attendees were taught how to bring clean water and hygiene solutions into developing countries. Attendees received hands-on training for installing Waterstep's New Life International Water Purification Systems and were introduced to several systems engineers at Georgia Tech have been developing. Conference guests are already installing systems in the Dominican Republic, parts of South America, and Nigeria.